How do disabled blue badges vary with different councils?
edit
If you have a disabled Blue Badge you can park in places that are restricted for other drivers. Your Blue Badge is linked to you rather than your vehicle, so it can be used with any car, including hire cars, taxis, or other vehicles in which you are a passenger. Recipients of Blue Badges are provided with a leaflet that explains how it is used, but the guidelines can also be accessed here.

Different rules for different councils
A Blue Badge doesn't work the same in every local authority area, and there are some places where it cannot be used at all. Some popular tourist destinations in the country have different rules, including:
Cornwall, where you can register a vehicle to be able to park for free in council car parks.
Glasgow, where you should check the detailed guidance about areas where blue badges cannot be used.
These rule variations occur all over the United Kingdom, so if you are going to be travelling anywhere in the UK, you should check the rules regarding Blue Badges for the destination area. Checking the GOV.UK Blue Badge information online could help you avoid getting a parking ticket.
In most cases, a Blue Badge enables you to park for free:
In any disabled parking bay on any street for as long as you need, provided there is no sign that gives a time limit
On a street with parking meters or pay-and-display machines with no time limit
On a single or double yellow line for a maximum of 3 hours, as long as there isn't a 'no loading' sign present. Some councils will permit you to park even where a 'no loading' sign exists – check online before travelling
If you have a Blue Badge, you should be able to ask your local council to give you a disabled parking space close to your home. This service is usually free of charge but the rules for applying can vary from one local authority to the next. You will need to apply through your local council's website.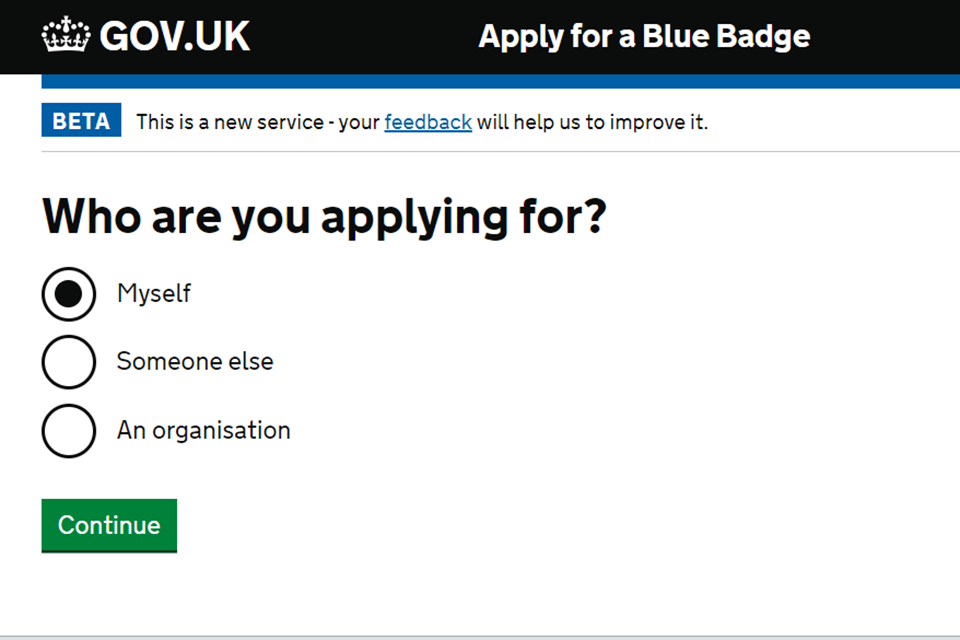 If you park in a private car park, perhaps at a hospital or supermarket, you may be required to pay even if you are parked in the disabled bays. Check signs in the car park to see what the rules are. A Blue Badge doesn't give you free rein to park wherever you like – you are still required to adhere to the normal parking regulations. If you park somewhere that endangers others, for example, you would still be liable for a fine.
Can anyone else use your badge?
The only times you can allow someone else to use your Blue Badge are:
When you're travelling in the car with them
When they are picking you up/dropping you off and they have to park close to wherever you are going
If another person is driving you, you should inform them of the rules. Your Blue Badge could be taken back by the council if the privileges are abused in any way.
How to display your badge
When you park and leave your Blue Badge in the window, you should:
Ensure it is the right way up
Check it is clearly visible through the windscreen
Be certain it is still current and valid
If you are parking somewhere with a time limit, set the parking time on your Blue Badge to the 15-minute window in which you arrived. If you are given a parking ticket despite displaying your Blue Badge properly, you have the right to appeal.
If your Blue Badge expires, or it has become damaged, lost or stolen, you should get in touch with your council and ask for a replacement.
What about taking it overseas?
Currently, your badge can be used in all EU countries and those in the European Economic Area. There may, however, be slightly different files depending on where you go, so it's a good idea to check the local rules of any location you visit. Additionally, pay close attention to road signs wherever you park.
What happens if I break the rules?
You are still liable for parking fines when using your Blue Badge. This is why it's important to be aware of the rules in any area you drive to.
If you deliberately abuse the privileges of your Blue Badge, you could be fined up to £1,000. Breaches that are considered serious include:
Letting someone else borrow your badge who is not your driver
Continuing using your Blue Badge when you no longer need it
Using the badge to park when you are only waiting with no intention of leaving your car
Always be aware of the rules and ensure any other drivers of your vehicle know them too. If you are travelling anywhere in your car, check the rules for your destination area online upfront. Most councils have similar rules but there are certain areas where there are significant differences. Knowledge is power, but you should also check signs around anywhere you park to ensure you know exactly what you need to do.